Elementary Verbal Operants
Test your Knowledge
Interactive teaching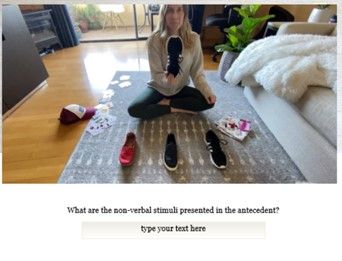 Guided lessons
This is part two of a two-part course on Elementary Verbal Operants. The course will give you an in-depth look at the listener behavior domain. Learn how to categorize listener behaviors such as following instructions or matching objects. This will set the stage for teaching these skills. During this interactive course you will identify key concepts following scenarios and videos. You will engage in interactive lessons and test your knowledge in chapter quizzes. By the end of this course, you will be able to identify listener behaviors occurring in the natural environment.
Rich Learning Content

Taught by industry experts

Interactive Quizzes

Self-Paced Learning

3 hours towards Registered Behavior Technician training
Become a Registered Behavior Technician
This course is include in our training package to become a registered behavior technician. To learn more about becoming a registered behavior technician visit our course bundles.
Meet the instructor
Markee Helms, M.S. B.C.B.A.
Markee is a Board-Certified Behavior Analyst who has worked in the field of Applied Behavior Analysis for since 2011. She is currently Assistant Director of Research and Development at California Unified Services Providers (CUSP). CUSP has been providing applied behavior analytic services since 2004. Markee developed this training with Dr. Eric Maier Ph.D., BCBA-D, founder and CEO of CUSP.